Creating an AdSense approved website ain't an easy thing if you are just starting out your online business. A website is the best investment for someone who has a passion and interest in Money. All you need is a passion to make this work.
Most people spend thousands of dollars to own an Adsense approved website. Which is actually shit, if I am being honest. The best way to learn and earn money from websites is going through Wealthy affiliate. Read about Wealthy Affiliate here. Click here for the Sinhala version.
Below is a screenshot of established WordPress websites taken from Empire Flippers.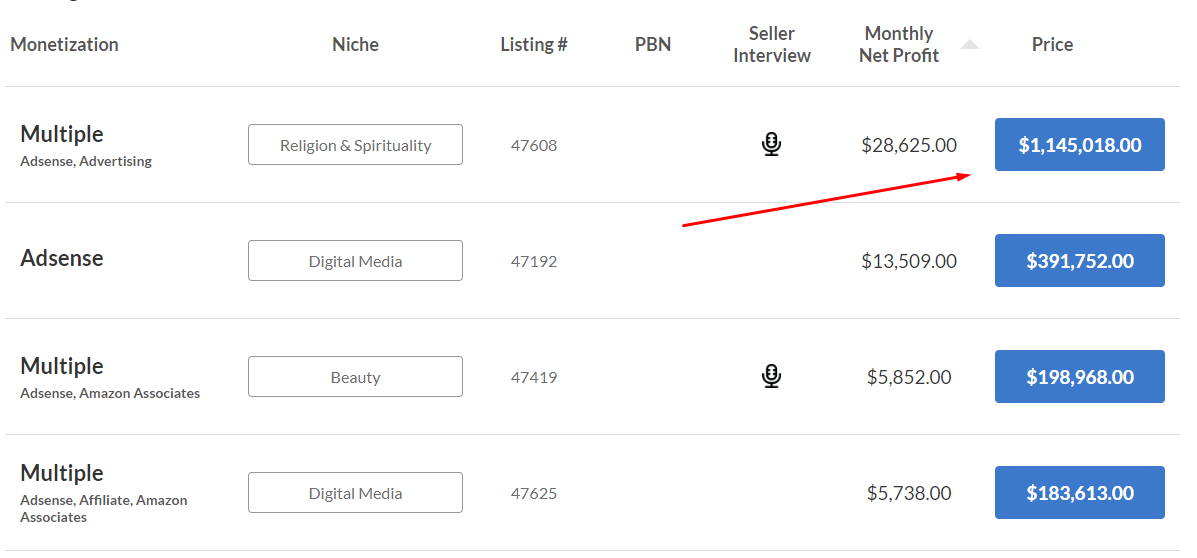 But if you don't want to spend months learning, here I am to help you. My AdSense Approved websites are not in any Fiverr, because my clients have to spend 20% more. You can save that 20% and you can keep that.
Below I am presenting you 2 website packages. And many extras.
SG Basic
SG Platinum
SG Basic

(Price – 5,000 LKR)
What you will be getting;
---
A Brand New Domain which is suitable for your Niche

Domain Research will be done from Our End

Top-Level Domain

.com /.info /.net /.org

A Premium Theme

Newspaper
Soledad
Bimber
Boombox

….100+ more

3 Keyword Targeted SEO Unique Articles (to Buy more articles click here)

1000 words

SEO Articles

100% Unique

Internal linkings & External linkings

On-Page SEO

90+ SEO Score on Yoast

80+ SEO Score on Rank Math

Yoast SEO Plugin premium

Homepage optimization
Google Indexed (100%)
Linked to Google Services

Google Search Console

Google Adsense

Google Analytics

Categories and Tags Optimization
For those who have Registered on Wealthy Affiliate and Upgraded to Premium. Contact me on Wealthy Affiliate for 40% Discount. (3000 LKR)
Number Of Days Needed (5 Days Minimum) In some AdSense late reply issues, 10 Days will be needed.
---
Proofs of my Adsense Approved Websites
Boredbat.com (You can visit this site and check for yourself)
WTF Detective (You can visit this site and check for yourself)
SEO Analysis of an article wrote by me. (look at the left corner)
SEO Readability of an Article wrote by me. (look at the left corner)
SG Platinum will be COMING SOON.