Skrill is a safe, convenient e-commerce and money transfer service. Like PayPal and Circle, Skrill's platform is designed to be easy to understand by people new to money transfers and digital wallets. In this article, we are going to review the skrill Review in 2020 and also how to open a skrill account, step by step.
Send money to domestic users or convert money to over 40 currencies globally from your online account or the Skrill mobile app. If you need help with your transfer, contact customer service with their 24/7 helpline or check out the interactive FAQ online. But be aware of the many fees.
Highlights
Don't have your friend's bank account details? Easily send money with just their email address.
Pay for your goods online without pulling out your wallet with any e-retailer that offers Skrill at checkout.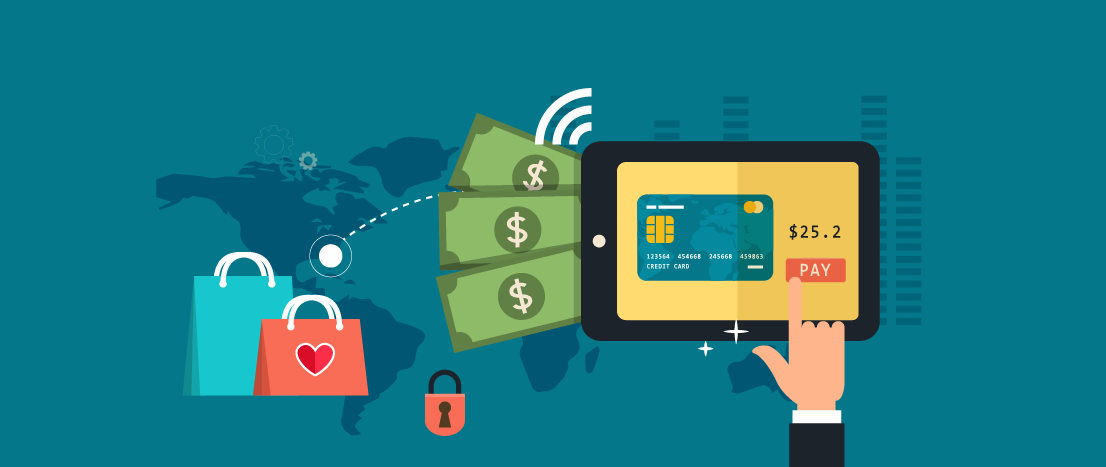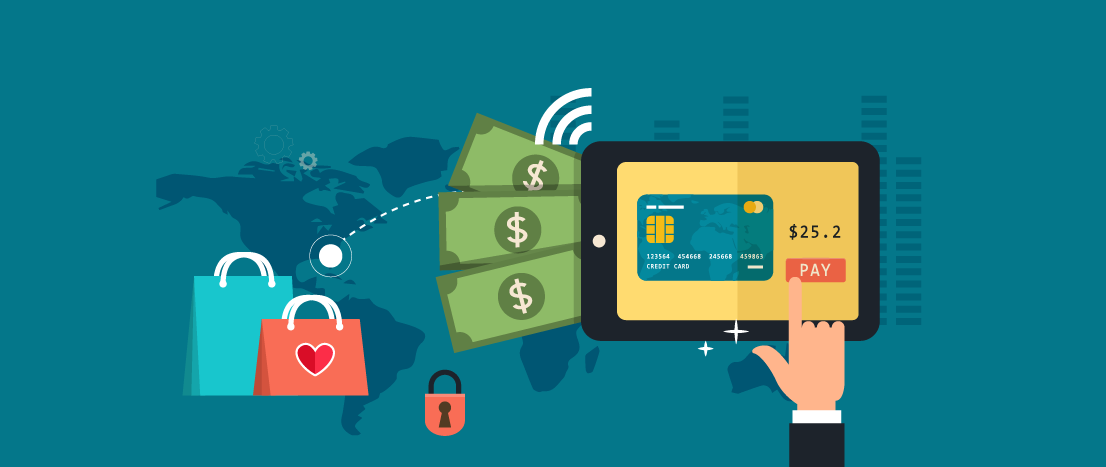 How much will I pay to send money with Skrill?
In addition to Skrill's currency conversion fee, you'll pay a transfer fee that's equal to 1.9% of your total transaction amount, capped at $20. Skrill automatically deducts these fees from the amount your friend or family member receives on their end. You'll also pay to withdraw money from your account.
1.9% transaction fee
3.99% currency conversion fee
up to 7.5% withdraw fee (varies by payment method)
For example, if you're transferring $1,000 from your Skrill account to a friend in the UK, Skrill will deduct a transaction fee of 1.9% ($19), along with a 3.99% ($39.90) currency conversion fee. Your friend will receive $941.10.
There are also fees for loading funds to your Skrill account. The price depends on the method you use:
Bank transfer: Free
ACH: 6%
Credit card: 2.9%
PaySafe card: 7.5%
Exchange rates
Skrill's exchange rates can be higher than competing services. It adds 3.99% to what it calls "Skrill's wholesale exchange rate."
What types of transfers does Skrill support?
Skrill offers one-off transfers. You have options for loading the funds to your Skrill wallet and withdrawing the money, including:
Upload methods. Load your Skrill wallet with funds directly from your bank account, a credit or debit card, a SWIFT account or another digital wallet.
Withdraw methods. Your recipient can withdraw funds from a Skrill wallet to a bank account via wire transfer, a credit card balance or SWIFT account, depending on their location.
Minimum and maximum transfer amounts
Skrill does not have a minimum transfer amount. Maximum transfer amounts can vary between $135 and $25,000 a month, depending on the verification of your account. You can usually verify your account instantly with your Social Security Number.
How to Open a Skrill Account.
Step 1. Go to the Skrill website. You'll find yourself on the account sign up webpage at Skrill Moneybookers account.
Step 2. Skrill Create Account- account sign up.
In order to complete the first step when registering your Skrill account, you have to enter your account details. Choose 'Account type' – personal, your country of residence, currency (remember, that you won't be able to change it in the future) and also the language.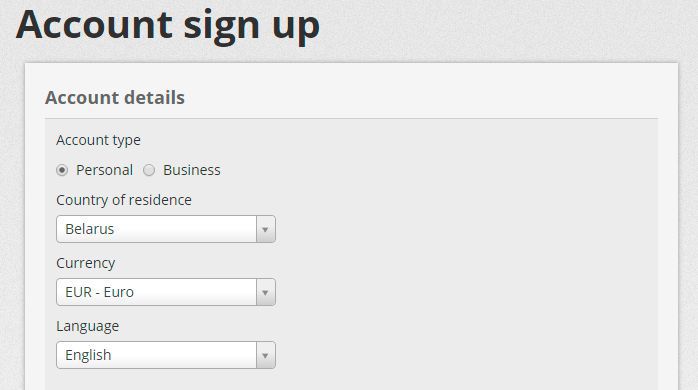 Step 3. Skrill personal details
Below you have specified your personal data. It should be as stands in your passport. Only real details should be specified, otherwise, you'll fail to complete the skrill Moneybookers account and identity verification procedure. After you've entered all the information, press the 'Continue to Step 2' button.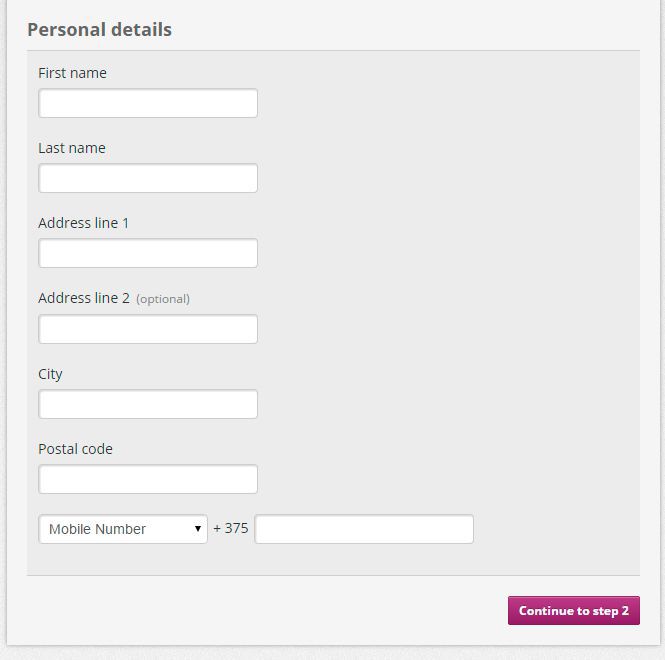 Step 4. Account credentials
At this point, you'll have to enter your email address, date of birth and also create a secure password. Pay attention, that the email address you've named will be used as your login to create the Skrill account and carry out money transactions. Therefore use your main email address create the skrill Moneybookers account. Your birth date information will be necessary for making payments – this will be the confirmation of all your transactions at the skrill Moneybookers account.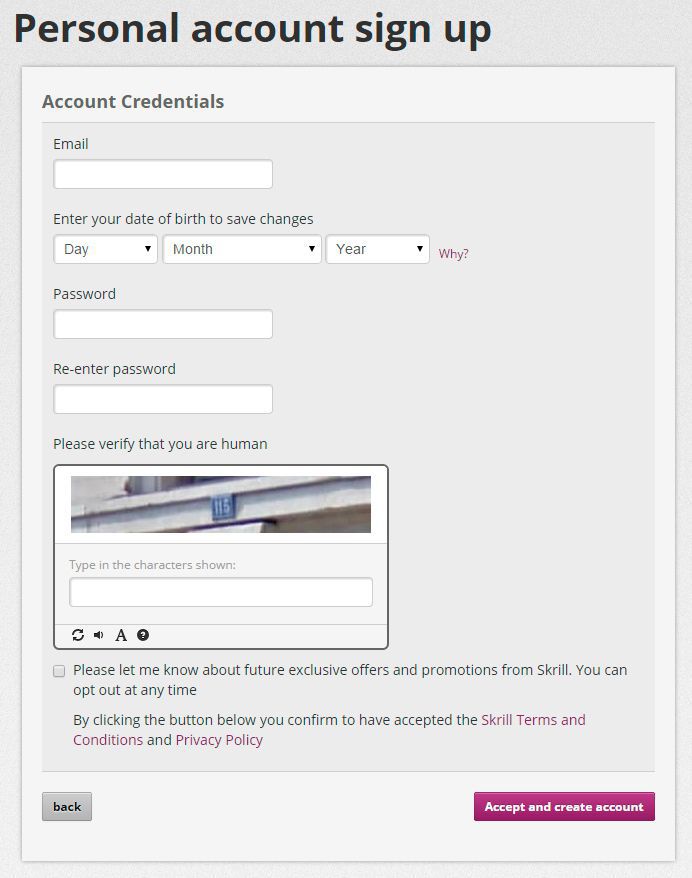 Step 5. Email address confirmation
You've successfully created an account at Skrill and its ready for use. All you have to do is to confirm the email address you've mentioned previously.

This is the foremost part of "how to open a skrill account" in 2020. Now, head to the next section as below.
Once you have verified your email address, you can add your preferred payment method. Just access your Skrill account and go to Upload, within the Balance section.
There will be a micro charge for verification and security purposes when you fund your Skrill Moneybookers account using a credit card. Contact your card issuer for more about this charge.
If you fund your Skrill Moneybookers account using your bank account, you are subject only to the fees that your bank might charge you for such transactions.
This process usually takes 2-5 business days, so we recommend you consider over-funding your Skrill account. Each time you transfer money from Skrill to us, you may start another funding to replace those funds, to avoid waiting for the transfer to clear to be able to play.
Pros and cons
Pros
Intuitive system. Skrill is a simple platform that's easy for people new to money transfers.
Services in many countries. Though it's not available in all countries, Skrill offers its transfers worldwide.
High limits. With no transfer minimum and up to a $25,000 maximum, few can beat the range of freedom offered by Skrill.
Ease Of Use. Unlike others, this is a must-have for the ease of use.
Cons
High fees. Convenience comes at a price, with lots of fees, including a currency conversion fee of 3.99%, which is higher than many other online transfer services.
Requires government-issued ID. This requirement could deter users without one.
If you have any further questions about creating an account, depositing and/or withdrawing, please contact Skrill directly:
https://help.skrill.com/en/ContactSkrill
---
MY NUMBER #1 RECOMMENDATION FOR EARNING MONEY ONLINE IN 2020,

CLICK

HERE

 TO KNOW