If you are thinking of buying and selling crypto is too complicated for you to understand, Binance can make everything easier for you. When you start dealing with cryptocurrency, it is important that you are familiar with the exchange that you are using as well as the different ways in which you can use it. Binance is one of the most popular cryptocurrency exchanges in the world with very low trading fees starting from 0.1%.
When it comes to Binance, the app was founded back in 2017 by two people who were both employees at the OKCoin exchange. Both Changpeng Zhao and Yi He had a drive for cryptocurrency – which is why they made Binance simple and uncomplicated for all users.
Binance has its own cryptocurrency – Binance Coin (BNB). The application is actually an exchange market for various cryptocurrencies. This means that you can only start a Binance account if you already own some form of cryptocurrency, and then you can trade it with other people.
You can now open a Binance account and start trading Bitcoin, Ethereum, and hundreds of altcoins. Binance also allows users to trade Bitcoin and other cryptocurrencies with up to 125x leverage on Binance Futures.
In this step-by-step guide, I will show you how to open a Binance account with a 20% fee discount. On top of that, you can also get an extra 25% fee discount by holding BNB in your wallet and enabling the option to pay fees in BNB, which eventually makes up the 45% discount fee that i have mentioned in the title.
Step-By-Step Guide on How To Create a Binance Account in Sri Lanka (Sinhala)
Follow the exact menthod that i am teaching you through this step-by-step guide to get 45% discount fees in future. Trust me when i say that reducing fees is also one of the greatest investment strategies that experts follow.
Step 1: Go to the Binance registration page
First click the link or the button below to go to Binance's registration page:
Step 2: Fill out the Binance registration form
Fill out the form by entering your email and password. Password must be at least 8 characters with uppercase letters and numbers.
Once you have done that, tick the box to agree to Binance's terms of use and click on the "create account" button. If the referral ID is not automatically assigned, enter this Referral ID :PA7BW5UO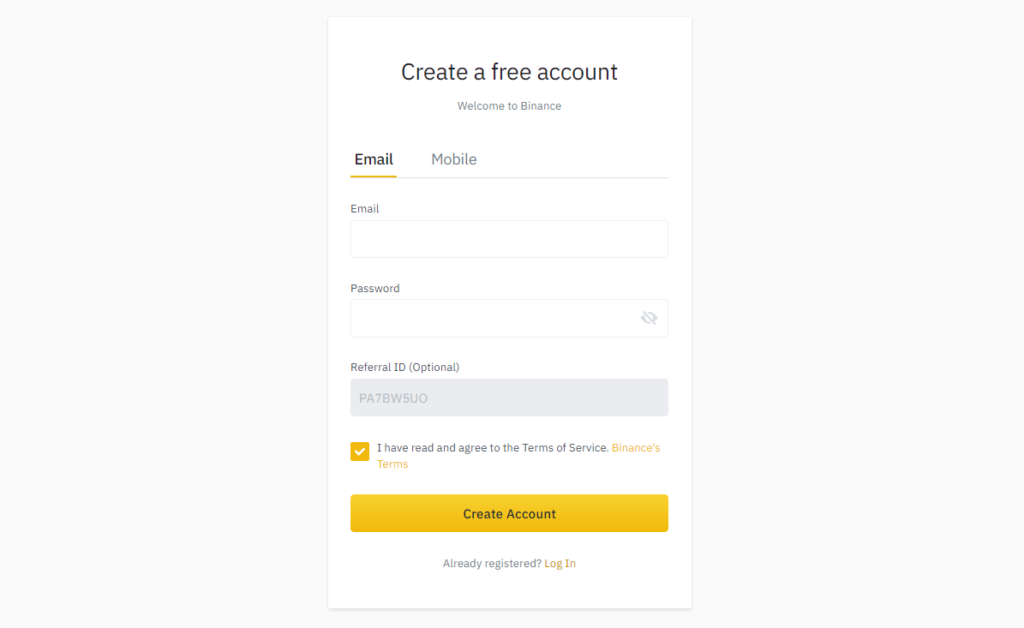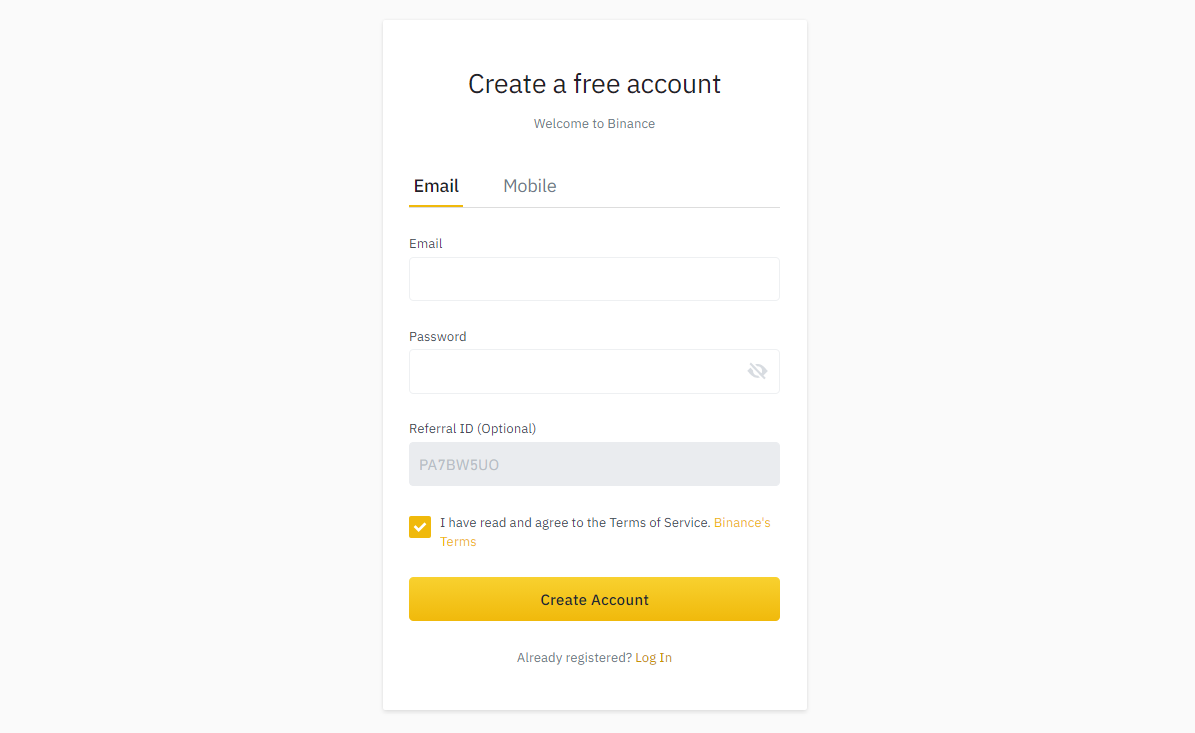 Step 3: Verify your Email Address
Check out your email address for the confirmation code. After entering your verification code, your email address will be confirmed and you can start using your Binance account.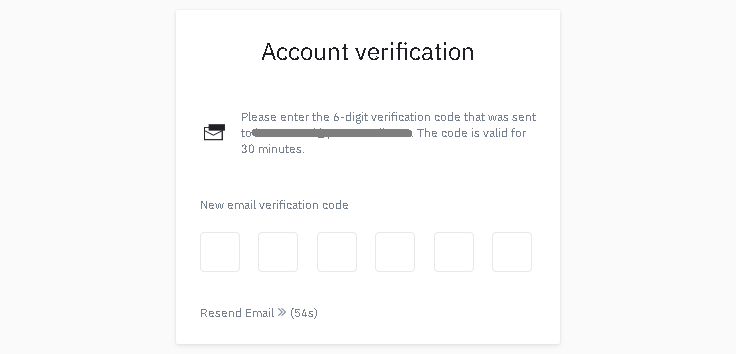 After your Binance account is successfully created, you need to set up 2FA (Two-Factor Authentication) for your Binance account for more security. You should definitely do this, since there are many scammers and hackers trying to get into these exchange accounts.
Step 4: Enable 2FA or Two-Factor Authentication on your Binance account
Click on Google Verification to enable 2FA on your Binance account, or you can choose SMS authentication to receive 2FA codes for your account.
Install Google Authenticator app on your mobile device by downloading it from App Store or Google Play. Scan the QR code with the app and it will automatically be added to your app as you scan the QR code.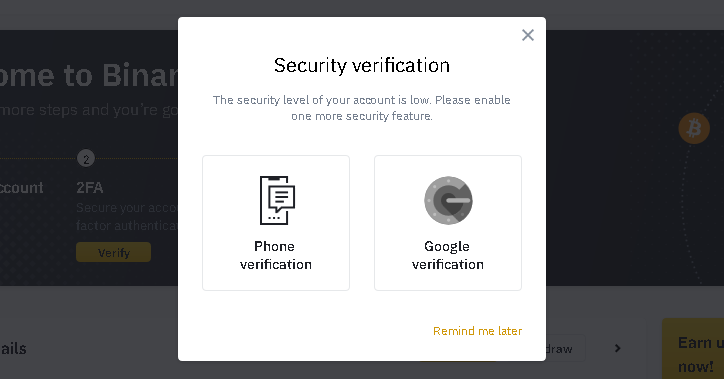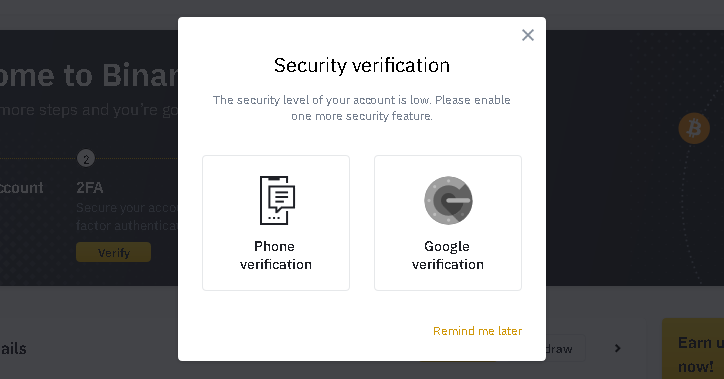 Backup both your QR code and text version of it so that you can recreate 2FA if you lose your mobile device.
In the last step, you need to enable 2FA by entering your login password and 2FA code. After that, you'll be done and ready to use your Binance account.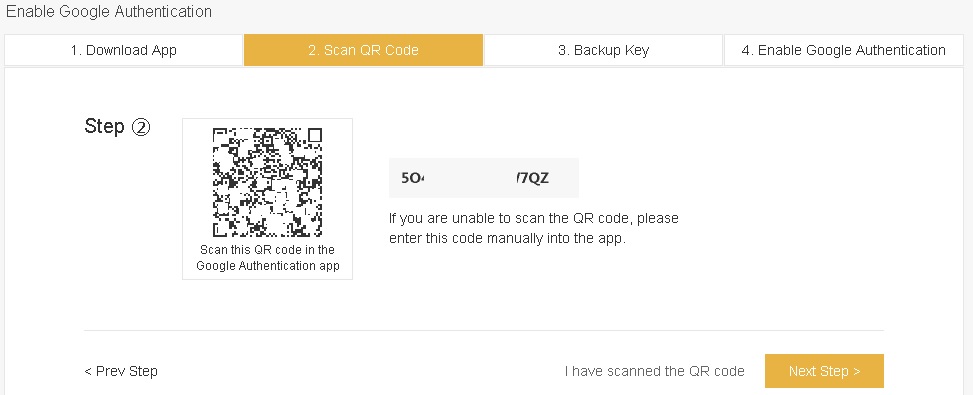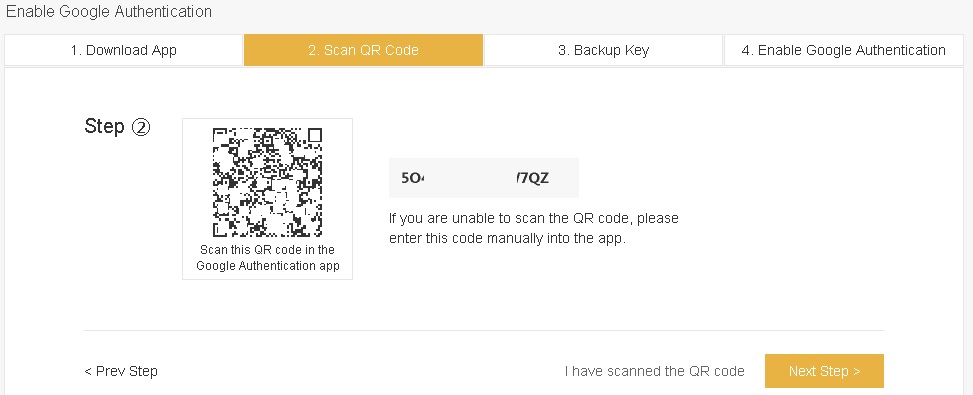 Step 5: Enable the option to pay fees in BNB (Binance Coin)
To lower Binance fees further, you can hold some Binance Coin (BNB) in your wallet and pay fees in BNB.
In this way, you will receive an extra 25% fee discount and pay much lower trading fees on Binance.
On your Binance dashboard, the option to use BNB to pay for fees should be enabled as shown in the image below.


This option is enabled by default on Binance. But, as this may change anytime, you should still check it and see if it is enabled.
If you run out of BNB, you can no longer enjoy the 25% fee discount. You should buy some BNB from the market to continue paying fees in BNB.
Binance Identity Verification
After opening your Binance account, you will have a daily withdrawal limit of 2 BTC and you can't deposit money into Binance.
To increase your daily withdrawal limit to 100 BTC and deposit fiat currencies into your Binance account, you should verify your identity.
To verify your identity on Binance, first click the "identification" tab on Binance as shown in the image below.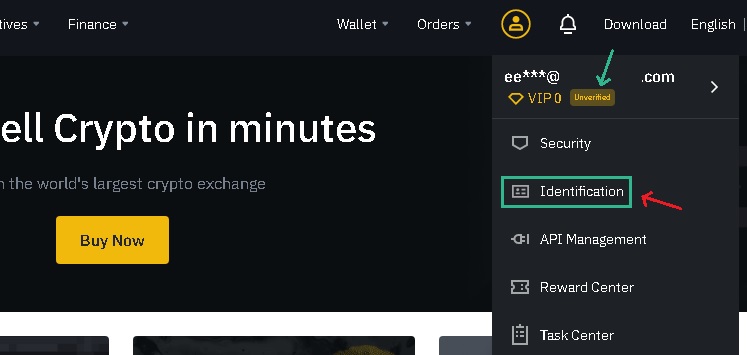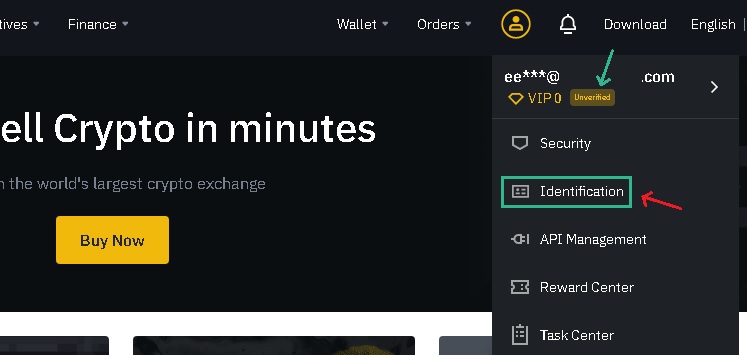 On the "basic info" page, you can verify your identity by clicking on the "verify" button. You will need to provide your basic personal information, a photo of your ID and a selfie.


After completing the identity verification, your daily withdrawal limit will be 100 BTC and you will be able to deposit fiat currencies to your Binance account.
The address verification is not necessary. But, you may need to complete it as well to increase deposit limits for some fiat currencies.
Binance spot trading fees
Binance spot trading fees are as follows:
| | | |
| --- | --- | --- |
| 30d Trade Volume (BTC) &/or BNB Balance | Maker | Taker |
| < 50 BTC or ≥ 0 BNB | 0.10% | 0.10% |
| ≥ 50 BTC & ≥ 50 BNB | 0.09% | 0.10% |
Binance spot trading fees
If you trade more than 50 BTC in the spot markets in the past 30 days and hold ≥ 50 BNB, your fee rate for spot trading will be updated and you'll enjoy lower fee rates.
If you've created your Binance account by following the steps in this tutorial, your trading fee rate will be 0.06%.
By creating a Binance account with a 20% fee discount and paying fees in BNB, you can lower the trading fee to 0.06% and pay much lower fees on Binance.
If you like this article, Share it with your friends and like our facebook page.